Sunday January 31, 2016
I am doing a bit of catch up today because we finally got back to Nairobi and fairly decent internet. The order is a bit mixed up since the blog I wrote for Thursday actually posted and I hadn't given you anything since Monday. So this one will focus on Tuesday January 26.
After we got things going at Olochani, Frank and I took off for Ololui with Pastor Reuben Twala. API had helped this congregation which was meeting under a tree, construct a building for worship. We went out to the church to see how things were. I should have known it wasn't going to be easy, particularly when we ran into a small river we had to ford.
Things didn't get much better as we actually got stuck in a tremendous bog which broke some things we had to do road repairs on. I say, 'We' but it was actually Frank who got dirty.
Nevertheless, intrepid travelers that we are, we finally made it to Ololui church.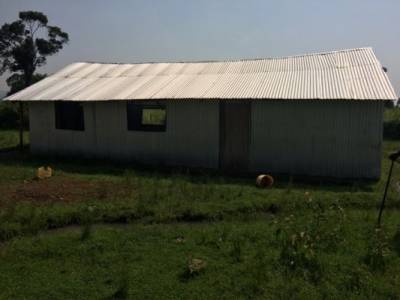 The man on the right is Pastor Reuben, and he wanted me to pass on the church's thanks for those who gave to see this building finally built. The man on the left is Pastor Samwel of Olocentu church, another Brad Pederson Building Fund project that was completed two years ago.
The next project for this church is a concrete floor and water drains. The property on which it is built is very wet during the rainy season and water comes into the church. They have a plan to channel the water away from the church and are awaiting funds to complete it. I told Pastor Reuben that we would put this project on our list of projects to complete. If you would like to give toward this project, you can either send a check to API USA, PO Box 235047, Encinitas, CA 92023-5047 or make an immediate donation by clicking on the MoGive page to the right of this one. Just click on the Pastoral Development tab in Campaigns and follow the directions.