Sunday January 24, 2016
I had more to say on Friday's blog but the power failed and I didn't get a chance to finish. Thursday we headed up to Mt Elgon to meet with some of the Ndorobo people at a place called Labot. They don't actually have villages as such since they live in the bush on individual plots, but they have community centers in places on the mountain where they gather to trade and swap news. The road has been much improved since the last time we tried to reach Labot, but it eventually ran out and we walked the remaining 4 or 5 km up the mountain.

Frank and I were accompanied by Pastor Leonard and another pastor, Dunstan Musungu, who originally came from this area. As we arrived at the center, people began coming to see who the visitors were. Since they live so high up the mountain and in a place difficult to reach, visitors are rare and treasured. Pretty soon we had about 25 men and women gathered around in a circle and Pastor Leonard and Dunstan began to introduce themselves and share why we had come.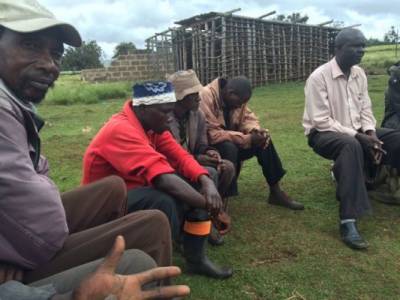 We brought an audio Bible called the Proclaimer with the New Testament in their language. An audio Bible is very important in a remote region like this as most of the inhabitants do not read or write any language, including their own. All Kenyans are supposed to learn to read and write English and Swahili starting in the 1st grade. However, places like this have very few schools and consequently very few of these people are taught to read and write.
After introductions and some explanation, we started the audio Bible and immediately they were transfixed. None had ever heard the Bible in their own language.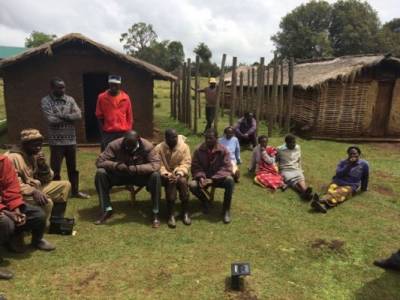 After about 30 minutes, Pastor Leonard then explained that he would be back with his team to continue with the audio Bible and asked them to invite others to come and hear. As he was talking, some excited conversation broke out among them with lots of pointing and gestures. It turns out that the person reading the Bible on the Proclaimer was the brother to one of the men listening! In fact he is the one in the middle in the picture above.
Pastor Dunstan and Pastor Leonard will be training teams of men to take this audio Bible into other centers in Mt Elgon, as well as another audio device called a Saber. The Saber has Bible stories in their language, Saboat, that present the gospel. Their intention is to begin going into centers all over this area in Mt Elgon with the gospel in Saboat. We have provided the team with one Proclaimer and five Saber devices, but more are needed. The audio Bible is so effective in these areas because as an oral culture they more easily identify with the spoken word as opposed to the written word.
The hotel accommodations were rather sketchy so we decided to head down the mountain to civilization.
Thanks to all those who donated funds to get these audio Bibles into the hands of faithful men. Pray for Pastor Leonard and Pastor Dunstan as they pull together a team to bring the gospel to the Ndorobo.