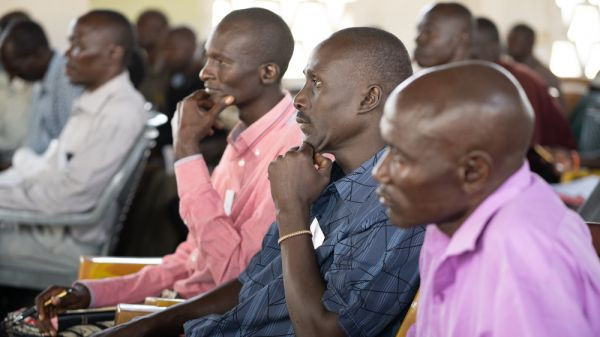 Thursday, August 15, 2019
Tomorrow is the last day of our conference here in Lodwar and it has been a very rich time for both attendees and presenters.  Around 100 pastors and church leaders have gathered from all over Turkana to attend this year, in spite of the fact that this week marks the most important cultural festival for Turkanans known as Tubong'u Lore.  Loosely translated it means 'the coming home', where Turkanans living in South Sudan, Ethiopia, Uganda and other parts of Kenya, come home to Turkana to celebrate their culture. It is a three day festival attracting tens of thousands of visitors with a program that offers a blend of traditions and modernity. Traditional dance, performances of well known Kenyan singers, a trade fair, a market and a huge choma zone (barbecued goat) are included. We took in the opening day of the festival for a short time during one of our breaks to see the sights.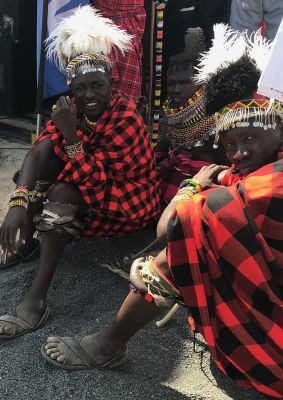 One of the unforseen impacts of holding our conference during this week was the arrival of some prominent political figures in Kenya. One of those was the former Prime Minister of Kenya, Raila Odinga who commandeered both Rob Hostager's and my rooms at St Teresa's.  Rob and I were booted out of our modestly comfortable bungalows to more humble appointments further down the row. 
This year we have added breakout sessions to our main plenary sessions with two different tracks.  One track is Biblical Counseling taught by Jay McBee, and the other is a pastor's topical track where we are teaching things like Teaching and Preaching the Word, Biblical Theology, Understanding Jesus' Use of Parables, and many other topics intended to equip these pastors.
Mostly behind the scenes, Rob and Pastor Reuben Luvanga are hard at working making all the media stuff work smoothly and they rarely get noticed, until something goes wrong.  But we couldn't do what we do without the dedication and expertise of these guys.
I am always very interested in the impact our conferences have on the local pastors and so I try to find time to talk to most of them about their families, their churches and life in general.  One of the pastors who has been coming since we began holding this conference back in 2013, Pastor Peter Ewoton, comes from Lokitaung, a town in northern Turkana. 
As we talked one day this week, he started by saying, "In Lokitaung, we are really in the fire. Remember the conference titled, 'Standing in the Fire' where we studied 1st and 2nd Peter?  Well, I started teaching the church what I learned in that conference and now we are feeling the fire!  One of the ladies in my church was murdered, another one died from an ectopic pregnacy, and I started wondering if I should stop preaching this.  But it was so good what you taught us, that suffering is in the hands of God for His purposes and He is with us through the fire.  Thank you for coming again and again to teach us!" 
Turkana is a hard place, just like these rocks that litter the landscape. But these pastors are still joyful in the midst of trials and suffering, knowing that their loving Father has them in His gracious grip and will not let them go. Keep these pastors in your prayers as they serve in some very hard places.