29/0814
Today is Friday and the last session of the conference here in Eldoret was held yesterday. Pastor Tim and I have been teaching through the book of Genesis and all the pastors and leaders here have let us know just how much they have been blessed by this study. They were also blessed to receive a copy of Pastor Tim's 150 page Genesis Devotional that we had copied and bound into books here in Eldoret for them. We will be holding a commencement exercise this morning for four graduates - Pastors William Odhiambo and Fred Anyule with Associate of Theology degrees, Pastor Moses Biketi with a Bachelor of Theology degree and Pastor Leonard Ekea with a Masters in Biblical Studies.

Here are some shots taken during the week.
Pastor Tim with Pastor Benson and Pastor Geoffrey
Rob with Pastor James
Reuban, William, Dennis, Jeremiah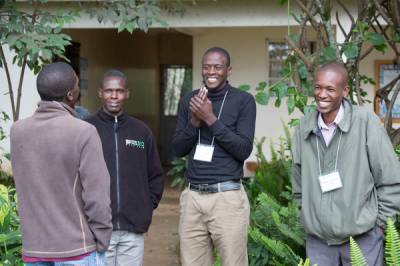 William and Emily Odhiambo, Ursula Ekea, Fred Anyule
Valentine's baby
My little friend
Thanks to all of you who have been praying for this conference. God has been good to us and we have been blessed with His presence, power and protection all through this time.